Welcome to the Nature of




Wolf Identity...

Hello, My name is Rhonda; and I am a Southern California native.
I am really just a wolf-lovin' poet, and I decided to create a site with the mystery of a wolf,
and the one who loves them. Sort of a walk through her (my) eyes with a poetic twang.
I know many of you appreciate the intrigue of a wolf, and also the beauty and mystery of poetry.
So, here it is, my attempt to share my poetry with some of you like-minded wolves out there.

I have been asked (repeatedly...lol) why there are no pictures of PoeticWolf on my site??...Yikes
OK...OK...Here is a picture of PoeticWolf.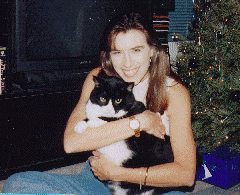 Well, there I am (this photo was taken at Christmas of 1997). Now then, ~smile~ Within my site I have included some of my original poems, A very cool place for playful wolves known as "The Enchanted Forest"; where you will find cool links, downloads, and a true wolf's playground. You can visit "The Gallery of Wolves" which showcases some great photos. Take a journey deeper into the heart of PoeticWolf in "The Romance of Wolves". Visit my newest area, which is a tribute to Kim Anderson, the photographic artist. I have included a gallery to showcase his awesome photos. I was recently involved in the very fun and Spirited adventure known as "The Site Fights". It was an incredible journey (about 7 weeks)! and I made it to the Dman Dome! (The Championship)! I made many new friends, and found a joy in the battle. I was on the team known as "Skye's Avenging Angels".



---
Wolf Interests...

The interests of this poetry loving wolf (or is that wolf loving poet?????) are:
I enjoy the outdoors, and what wolf wouldnt? Although I am afraid that there are recent conflicts with that interest since I seem to have become addicted to my computer. I have discovered that I really enjoy web page designing (although I am strictly a self-taught novice). So it seems lately that I am glued to the keyboard more often then I am enjoying the great wild outdoors. I am sure it is only a phase though...it will pass. (yea right!) My obvious interest is Poetry. I feel I have been blessed by God with the gift of being a poet. I hope somewhere, someone is touched in a special way by the words from a heart that is near to God.
---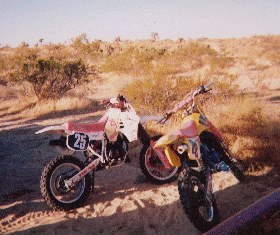 My special interest is riding my dirt bike. YES, it is true. I am the proud owner of a cool little YZ80 dirt bike. Oh, and yes, I do actually ride it. I am pretty good too, when I am not eating more dirt than I am conquering. Here is a picture of my little dirt terror. Mine is the one on the left, and that is "MY" number 25!! I can't remember better times than those shared with my friends out under the sun and stars. I love DIRT!! (LOL)


---
Wolf Loves...
The loves of this wolf are simple! There are three of them.
The first love of Poetic Wolf is this: Knowing and trusting my Lord and personal Savior...Jesus Christ!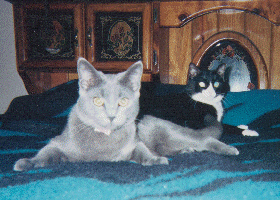 The second and third loves of this wolf are:



My two cats!
---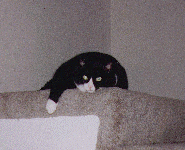 This is Tino (short for Valentino..The Loverboy)
Tino is my special gift from God, and he weighs in at a whopping 20 lbs!
Doesn't he just think he's the coolest???
At only 8 weeks old, he made quite a long journey up the side
of my friend's sofa and down it's length; to settle himself
snugly in my lap. I clearly heard the words...I have chosen "you",
and so... I took him home. He is the most amazing cat I have ever known.
In addition to liking the water, he loves to "spoon" at bedtime.
He loves to be held and cuddled and is really quite spoiled.
His favorite thing in all the world is Ice Cream...no joke.
Standing upright...he does a perfect impersonation of a penguin.
But don't tell him I said that.



---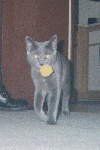 This is Torrey (short for Tornado Grey).
I adopted him from "The Mark & Brian" Pet Adoption in L.A. in 1993.
He was only 8 weeks old, and on the day I brought him home;
all he seemed to enjoy doing was spinning around chasing his tail
He looked just like a little grey tornado...hence the name!
He has a natural born talent for "fetching". NO kidding...
You throw it...he will bring it back! Isn't that cool?



---
Want to see "The Coolest Guy in The Coolest Car"????

TAKE A PEEK


---



But wait...dont get me wrong. I really do have normal loves too. I could fill the page, but I wont.
I will just name some favorites: Lets see now...I love love love Hagen daaz Ice Cream! (Vanilla Fudge especially)
I love Pepsi! I love music! I love romance! I love good friends! I love camping! I love to see people smiling and laughing. I love the face of a baby as it looks adoringly and faithfully into it's mothers eyes. I love movies! Did I mention Pepsi? and one of my favorites is definately chocolate. (yes Hershey, you have my heart) I love to sit by a fire while it is raining outside. Well then, I will leave you with those loves for now.


I hope you enjoy my site and feel free to contact me with any ideas.
You can also submit your own original poems, and I will add them to The Poetry Den's "Wall of Wolves".




Keep "Feeding"......


I live with "HOPE", because...