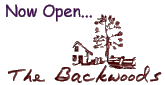 featuring...



ADD YOUR FAVORITE!



Hot Utility of the Month:

Experience KaZaA!!
Your BEST Napster alternative, I highly recommend it! A+++

Get it NOW!



Member of: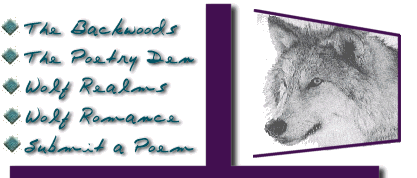 This is a land unlike any other you have visited. Here in the midst of the mystery of Wolves; you will also travel deep into the mind of PoeticWolf. A Wolf loving poet...or a poet loving Wolf; I am not sure which is more appropriate at this point.



Journey into the many facets of this question, here...at "The Poetry of Wolves". Venture into "The Poetry Den", and step inside the secret caverns of my poetic mind. Do you have the heart of a poet? Feel free to submit your original poetry to me. I display the works of visitors to my den on the ever-growing "Wall of Wolves".


Step into "The Wolf Realms", to journey into the world of the sights and sounds of the mighty Wolf. The Realms is complete with a video clip from The Discovery Channel's cable TV special "Wolves at our Door". Experience a full gallery of photos of these majestic animals, as well as the unique sounds they make within their hierarchy. A true adventure for Wolf lovers.


For those of you who crave true romance, visit "Wolf Romance". Here you will step into my world of romance through the photographic artistry of the master Kim Anderson. A complete gallery of his classic photos awaits you. For you playful wolves, visit "The Enchanted Forest", where you will discover a feast of activities.



For an added tidbit, I have thrown into my den, some of my collection of the coolest fonts that can be found anywhere on the Net. You can view and download them directly from within "The Wolf's Fonts". For you font addicts, I will soon have an entire site dedicated to fonts called "The Font Fuss". Watch for it soon.

Please don't depart from my den without leaving your tracks or prints in my Guestbook. If you have any questions or trouble submitting poetry using my form; feel free to e-mail me.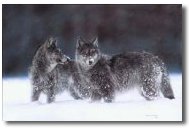 [Poetry Den] [Wolf Realms] [Fonts] [Enchanted Forest] [Awards]
[Submit a poem] [Romance] [Wall of Wolves] [Guestbook] [Webrings] [Site Fights]

E-Mail PoeticWolf




Copyright ©1998-2003 PoeticWolf
All rights reserved