TO BEST VIEW THIS PAGE...PLEASE WAIT UNTIL IT FULLY LOADS
(it will be worth it!)

---


Proud to be "An Avenging Angel"
and a Dman Dome Finalist!!


Angels...
Swooping, Soaring, Sailing,
Fighting on in The Spirit
ever strong, ever prevailing!





SKYE...WE DID IT!!!...THE SPIRIT AWARD!!!
Received February 4, 1998
Thanks so much DSpirit!!



Dont forget to share a Spirit Stick...
with someone today!
Pass it on! Pass it on!


Aren't they just adorable!
---
This site is under the
careful watch and protection of


our Guardian Angel Gabriel

---
"The Poetry of Wolves"
became a Site Fights Champion in Feb 1998!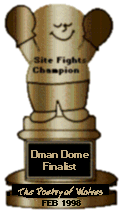 ---
PoeticWolf's Team of Choice...


"THE ANGELS ROCK THE OTHERS INTO SHOCK!"
I love my Angels!!!

---
Check out the latest happenings at The Site Fights
---
Special sites that filled me with Spirit...


---
Visit Tipi ~~ A truly Spirited friend and fighter!
---

Have you visited a castle lately...?
Say hello to my favorite Castle Keeper...Jozie!

(She always leaves the back door open for this little wolf)

---

For the Romantic at heart...A MUST SEE!

---
---


Another great "Avenging Angel"


---
---
The "Oh my Gosh, I am winning Awards!" Section...
(I do believe I shall be needing to create another page soon!)
Update...I am working on one ~giggle~


---
I did it! FOUR TIMES NOW!...oh my, and my throat isn't sore yet!


Won Jan 8, 98
In The Wings

Won Jan 17, 98
In The Arena

Won Jan 28, 98
In The Main Event

Won Feb 3, 98
In The Warzone

Thanks Slane! I will keep SHOUTING for The Avenging Angels!


---
This little wolf certainly has D'Angel Spirit!


Received Jan 30, 98
Thanks so much Mother Echidna !


---
WOW! Wee One Rose granted me her coveted Amazing Spirit Award!
(I hear this isn't easy to get...**smile**)


Thanks so much! I am touched!
Won Jan 9, 98

---
Fairy Enchantra likes this little wolf's Spirit...


Thanks so much Fairy Enchantra...Love ya!
Won Feb 3, 98

---
Poetic Love was kind enough to grant me both of her awards!



Received Jan 8, 98


Received Jan 8, 98

Thank you so much
Poetic Love!
You have such SPIRIT!
---
This Spirit Page was honored by "DFairies"!



by "La Petite Fe'erique"!
Won Jan 12, 98
Thanks La Petite!

An extra dose of dust!

~giggle~
Thanks Cat Psipsinele!
Received Feb 2, 98


by "~*~D Scary Fairy~*~"
Won Jan 20, 98
Thanks so much ~*~ D Scary! ~*~


By Fairy "Cat~*Psipsinele*~"
Won Jan 16, 98
Thanks Cat~*Psipsenele*~!


More love from DFairies!

By Fairy "Cat~*Psipsinele*~"
Thanks again Cat!
Won Feb 2, 98


PoeticWolf Loves DFairies! ~~Big Wolfy Giggle~~
---
SPECIAL TOKENS OF LOVE AND SPIRIT...

Angela...AKLadyBug left extra tokens for PoeticWolf

Received Feb 3, 98... Special "Wolfy" Thanks to you!
---

Special Spirit from DSpirit given to PoeticWolf Feb 4, 98
Thanks so much DSpirit...Wolfy hug to you!

---
My favorite Castle Keeper's Appreciation!


Thanks "Mom"...I love ya bunches!

---
From my special GH lady friend Michele!


Thanks so much for your great friendship!

---
A very cool Wombat left her Spirited Wishes for The Angels!


Thanks so much Laura Travis...You are one cool Wombat!

---


OH BOY! "SOME NEW ARRIVALS"







I am proud to introduce DChamp Jarod, Heather, and Tommy!
I named Heather and Tommy after my neice and nephew.
I am currently getting their nursery ready,
where you will be able to come and visit them.
I got so excited about my new arrivals, and wanting to take care of them;
that I went out and bought a new house for them....heehee
UPDATE...Wallpaper found! Nursery now complete! Come Visit my DChamps!

---
Please leave your tracks...
and let me know that you visited me with your Spirit.


Sign

View
"p@wp®íñts èxçéptéd...of course"

---

Indulge in "The Poetry of Wolves"
---
© PoeticWolf 1998

A proud member of Skye's Avenging Angels
---
You are the

Spirited visitor to my Spirit page
as of Feb 22, 1998


---

Home of PoeticWolf

E-mail PoeticWolf

This Spirit Page created Jan 7, 98