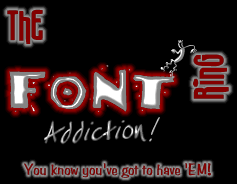 The ring is NEW and currently
accepting NEW MEMBERS!

If you would like to join this cool font ring,
please fill out the Font Addiction Ring Submit Form,
and you will be placed into the ring Queue.
The ring is now up and running!
Launched September 12th 1998.
Be one of the first to be a part of...

Font Addiction!